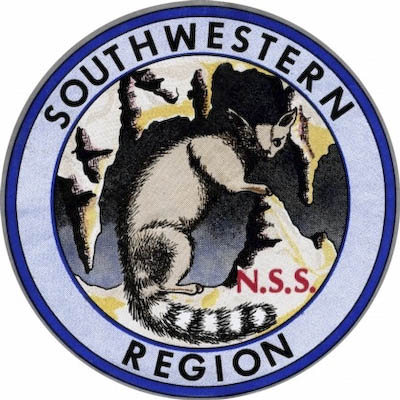 Founded in 1962, the Southwestern Region of the NSS is a Region of the National Speleological Society. The Southwestern Region is a non-profit organization to further the discovery, exploration, scientific study, and conservation of caves, and to promote safe techniques of cave exploration. The Southwestern Region spans New Mexico, west Texas, and eastern Arizona. These boundaries overlap boundaries recognized by the Texas Speleological Association and the Arizona Regional Association.
Contact us: swrNSSchair@gmail.com

Webmaster contact: ChrisGabeMontemayor@gmail.com

Sign up for the email list by emailing clkieffer@gmail.com or swrNSSchair@gmail.com to get added to the email list.
You can also join the Southwestern Region Group on Facebook
CURRENT EVENTS
SWR Spring Regional
April 23, 2022 business meeting at 9 am, caving afterwards
at GypKaP
see your Southwestern Caver or email list for directions
Sunday Earth Day sinkhole cleanup

SWR Winter Technical 2020
Presentations uploaded to YouTube (https://bit.ly/3chREAL)
hosted by Pecos Valley Grotto

SWR Winter Technical 2021
Recording can be found HERE
Downloadable presentations can be found HERE

SWR Stalactijack Award information here!

Please send agenda items to swrnsschair@gmail.com
Link will be sent to email list- or contact the chair at address above for the link



(Notify webmaster if you would like to add events…)
SWR Membership and Donations Information
Regular membership is $15 per year, and includes six issues of the Southwestern Cavers newsletter. Additional family members (living at the same address) are an additional $2 each, but do not receive the newsletter. The individual members (regular or family) present at a Regional meeting are the voting members of the Region; member grottos have no voting franchise.
Please note: joining the SWR does not automatically sign you up for the email list, you will receive the paper newsletter. See above for how to sign up for the email list.
Make your check or money order payable to "Southwestern Region of the NSS". Please include name(s), mailing address, phone number, email address(es), primary grotto affiliation, NSS number(s) (if applicable), and type of membership (regular or family) for each person and mail to the SWR Treasurer:
Southwestern Region of the NSS
Ron Lipinski
12904 Manitoba Dr NE
Albuquerque, NM 87111
swregiontres@gmail.com
Please send any changes of information to this address as well.
Or join/renew/donate online with paypal or Credit Card, click on the donate link below:
Member information listed above should be entered in the notes on the checkout page.
and now via Amazon Smile
The Southwestern Region is a non-profit, 501(c)(3) organization. Your
contributions are tax-deductible and will further the goals of the SWR.

Patty Daw Memorial Grant
The Southwestern Region of the NSS Patty Daw Memorial Grant program provides small grants to individuals / organizations for cave/karst scientific research and/or cave conservation purposes. The deadline for applying for a grant is September 30th. An SWR member can download the Patty Daw Memorial Grant Individual Form to request a grant for a worthwhile cave or karst-related project. Organizations or individuals can apply for a grant using the Patty Daw Memorial Grant Organization Form. Completed applications / request forms should be mailed to the SWR Treasurer at the address above.